M104 - Sombrero Galaxy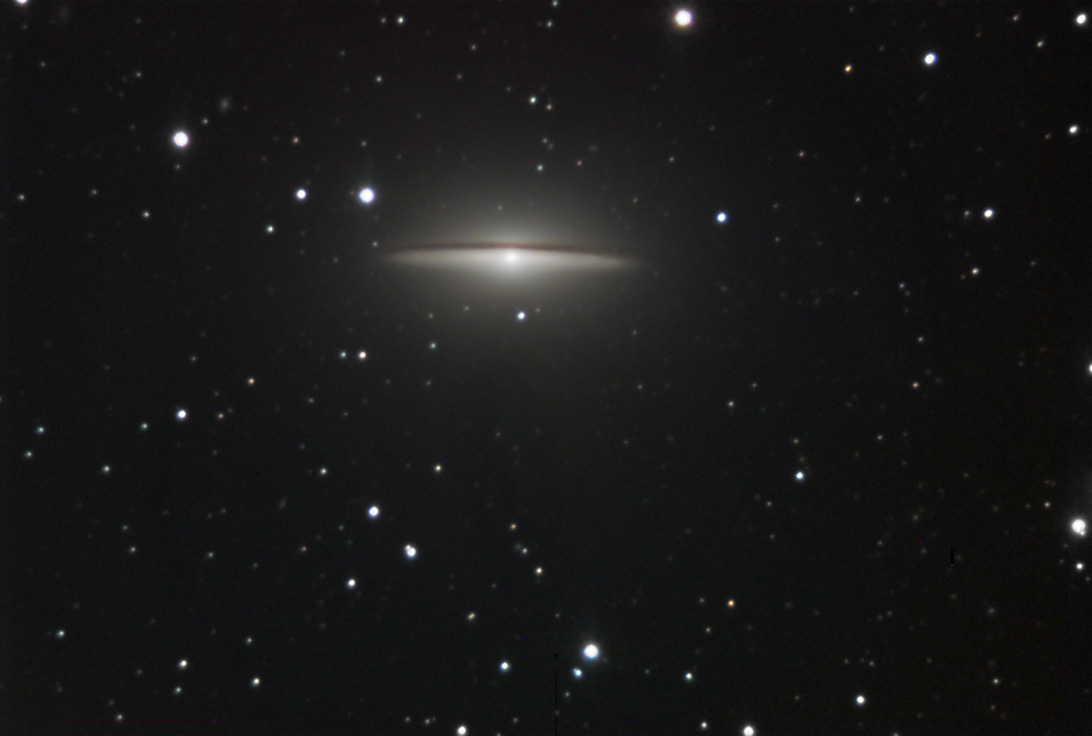 For high resolution, click here.
M104 - Sombrero Galaxy: This is a bright, unbarred, spiral galaxy in the constellation Virgo. The prominent bulge and dust ring give the galaxy the appearance of a large, Mexican hat, thus the Sombraro name.
Messier: 104
NGC: 4594
Right Ascension: 12h 40m
Declination: -11° 37.3'
Apparent Magnitude: 9.0
Date: June 2011
Equipment:
Telescope: Meade 10" f 10 LX200 Schmidt Cassegrain with f6.3 focal reducer
Camera: SBIG ST-10XE
Guiding: AO-8

Exposure: Luminance: 4x15 minutes binned 1x1.
RGB: 5x5 minutes binned 2x2.

Processing Notes: Data acquisition in CCDSoft. Image reduction and alignment in CCDStack. Subframes combined in Sigma Beta. Arcsine stretch import of FIT file into Photoshop. Levels and curves. RGB combined in AstroArt. Adjusted curves and levels, and reduced noise of RGB. L was combined with RGB using three layers: Luminance on the bottom; RGB as a multiply(30%) layer; and RGB as a color layer on top. Final adjustment and tweak in Photoshop.
Scale: ~1.6"/pixel

Links to images of this object on other sites:
http://antwrp.gsfc.nasa.gov/apod/ap060115.html
http://antwrp.gsfc.nasa.gov/apod/ap070505.html
http://www.pbase.com/gregbradley/image/123997685
Additional Comments: The camera at the Fort Lewis Observatory is typically installed "upside down" to allow for greater clearance with the LX200 fork mount, which is why it looks inverted here. This is also one of the few images in 2011 using the 10" scope while the 16" scope was being repaired. Data acquisition by Adam Baker, processing by Charles Hakes. Previous FLC versions of this image is here:
2010: http://www.fortlewis.edu/observatory/image_detail.asp?ID=97
2007: http://www.fortlewis.edu/observatory/image_detail.asp?ID=211
Views: 2916
This work is licensed under a
Creative Commons Attribution-NonCommercial-ShareAlike 4.0 International License
.